KFD (7 Days)
---
Kerala Group Package
Kerala Fixed Departure (7Days/6Night) - Book Deluxe type Fixed Departure tour package which covers Alappuzha, Eravikulam national park, Kanyakumari, Kochi, Kovalam, Munnar, Padmanabhaswamy Temple, Thekkady, Kanyakumari(Tamil Nadu) from meetmytour holidays with great savings.. Kerala Fixed Departure offers Breakfast and Dinner, All Transfer and Sightseeing, 3 Star Hotel .
---
What's
include
Breakfast and Dinner, All Transfer and Sightseeing, 3 Star Hotel
Accomodation
Breakfast
Entrance fees
Parking Fees
Toll
Transfer and Siteseeing
Airport Pickup/Drop
Drivers Bata and Fuel Charge
Houseboat
Tax
Tour Guide
What's
excluded
Excluded from Kerala Fixed Departure
Additional sightseeing or extra usage of vehicle
Travel Insurance.
Vehicle
Used
TOURIST BUS 45/49 Seat Large Coach
Hotels
Used
DAY 01:-COCHIN - MUNNAR (NIGHT AT MUNNR)
Onarrival meet, assist and transfer to Munnar, One of the most beautiful hillstation in South India. Its situated at a height of 1600 m above sea level. Onthe way visit Cheeyappara and Valara waterfalls. Local sightseeing according totime. Overnight stay at resort/hotel.
DAY 02:-MUNNAR SIGHTSEEING
Enjoythe sumptuous breakfast. Later proceed for the sightseeing. Visit EravikulamNational Park, where you can see the rare species Nilgiri Tahr (mountaingoats). Visit Mattupetty Dam. Mattupetty offers many fascinating sights torelish. Besides the lush green tea plantations, and the rolling grasslands, theShola forests in and around Mattupetty are ideal for trekking and are habitatto a variety of birds. Visit Kundala Dam. Kundala is a picturesque town locatedat the confluence of three mountain streams namely Mudrapuzha, Nallathanni andKundala.By route visit Echo Point, View Point & green carpet of TeaGardens. Overnight stay at resort/hotel.
Overnight stay at Hotel.
DAY 03:-MUNNAR -THEKKADY
After an early breakfast, check outof the hotel and drive to Thekkady. Thekkady: India's largest wildlifesanctuary is a dream destination for any tourist visiting India. With itsbountiful treasures of tropical flora and fauna, it is the ultimate reservoirof many endangered species and a rich tribal culture. Thekkady is a pleasantheaven on earth for those who love nature in its wild manifestations. Uponarrival check into the hotel and have lunch (personal expense).
Afternoon, proceed for a boat cruiseat Periyar Lake in Thekkady, a soul stirring tour. Thekkady is synonymous withwildlife and nature treks. Periyar Lake: Located in the heart of the forest,Periyar Lake is famous for fostering a wide species of wildlife. Boating can beenjoyed on this lake, which serves as the reservoir of the dam and provideswater to the forest.
Evening, Visit the city where youcan enjoy traditional shows like Kadakali, Kalaripayattu (The Orients treasuretrove, a gift to the modern world and the mother of all martial arts), (All areoptional and Direct payment) Get involved in some shopping or opt for anElephant Ride (on direct payment basis) in the evening. Return to the hotel inthe evening and enjoy time at leisure. Enjoy dinner and a comfortable overnightstay at the hotel.
DAY04–THEKKADY – ALLEPPEY (Backwaters )
In the morning, after breakfast,proceed to Alleppey. Enjoy staying at the houseboat and take in the beauty ofAlleppey. Facilities for lunch, evening tea, snacks, dinner and next daybreakfast will be arranged here. Enjoy your overnight stay at the houseboat.
Note: All meals included at thehouseboat.
DAY 05ALLEPPEY - KOVALAM
Morning after breakfast check outfrom the houseboat and proceed to Trivandrum - on the way visit Trivandrumcovering Napier Museum and Sri Padmanabha Swamy Temple and Kovalam Beach the internationally renowned beach destination. Spend therest of the day in the sandy beaches ofKovalam flanked by coconut groves on one side and Arabian sea on the other.Overnight at the Kovalam.
DAY 06 KANYAKUMARIDAY TRIP
Morning after breakfast proceeds forKanyakumari Day Trip. Morning afterbreakfast proceed to Kanyakumari- the southern tip of Indian sun continent.Visit Vivekananda Rock Memorial and evening witness the majestic sunset. Backto Kovalam. Overnight at Kovalam.
DAY 07CHECK OUT AND PROCEED TO TRIVANDRUM AIRPORT
On thismorning after breakfast and check out the hotel and drop at Trivandrumairport/railways station to board a flight / train back to your homedestination.
ü Above mentioned/base category roomaccommodation on DBL/TPL sharing basis.
ü Pick up Cochin Airport/Railwaystation/Bus station.
ü Drop at Trivandrum Airport/Railway station/Bus station
ü All sightseeing, land transfer &inter hotel transfer.
ü Driver's Bata, fuel charges.
ü Transportation as mentioned with anEnglish/Hindi speaking friendly driver cum guide throughout your trip.
ü Day Trip to Kanyakumari
ü Accommodation as mentioned with Breakfastand Dinner
ü Flight/Train Tickets
ü Any portage at airports and hotels, tips, insurance,wine, mineral water, telephone charges and all items of personal nature
ü Optional activities mentioned in the itinerary.
ü Lunch & Dinner are not included in CP plans.
ü Any other services not specifically mentioned in theinclusions.
ü Entrance feesto Amusement parks & Boating charges.
IOD OF NOTICE

CANCELLATION FEE

No Refund for Initial Advance Amount

> 45 days' notice

Deposit is forfeited & No Retention

30 - 21 days

50% of Tour Package Cost

21 - 14 days

75% of Tour Package Cost

< 14 days/No-shows

100% of Tour Package Cost
VALIDITY
Ø All rates quoted are in INR and arenon-commissionable. The rates in this document are subject tochange/revision based on any increase / decrease in the hotels'/suppliers'rates or the taxes imposed by the government.
Ø Rates are valid only for Indian Nationality.
IMPORTANT
Ø Booking advance perperson is Rs. 5,000 which is non-refundable.
Ø Kindly note that check in time would be 12.00hrs and check out @ 11.00 hrs and same is applicable for all hotels until orotherwise early check in/check out is communicated prior to arrival and agreedupon.
Ø Management shall not be responsible for anybelongings that are lost or stolen or damaged during the tour.
Ø All transfer times mentioned above are subjectto variations depending on traffic flow, road & weather conditions.
Ø Guests are advisedto carry their ID Proof/confirmation vouchers/itinerary throughout the journey.
Ø Tour will excludeall the expenses of personal nature such as telephone calls, laundry, portage,minibar, meals other than what is mentioned in the itinerary, tea / coffee,snacks etc.
Ø For singlepassengers without family, you will share a room either on twin or triplesharing basis depending on the bookings.
Ø If we do not have asingle person like you, you will have to take the single supplement with anadditional cost.
Ø Hotels / rates /itinerary subject to change as per availability at the time of confirmation ofthe tour.
Ø All fares &rates are as prevailing today.
Ø Any increase in theairfare or airline taxes will apply.
Ø Tour cost is basedon minimum 49 pax travelling together in the group.
Ø If there is adrastic fall in the number, then the quantum of increase in the cost will bedecided and to be borne by the passenger.
Ø No refunds for anyexpenses passengers might incurred due to circumstances beyond our control suchas flight cancellation, delays, accidents of any nature, bad weather, naturalcalamities, medical evacuation, supplier policies and all other unusedservices.
Ø All rates are perpax on twin / triple sharing basis.
Ø In case any paxcancel the booking, the cancellation charges will be apply. This will becalculated on the basis of the services done for the pax.
Ø This will be inaddition to the non-refundable deposit.
Ø All fares &rates are as prevailing today
Ø Hope the abovementioned details meet your immediate requirement and in case of my assistancebe required, you may please call me always @ +91 484 485 89 89 or the HOTLINEnumber mentioned below.
Location Covers
In Kerala
---
---
---
---
---
---
---
---
Location Covers
Outside Kerala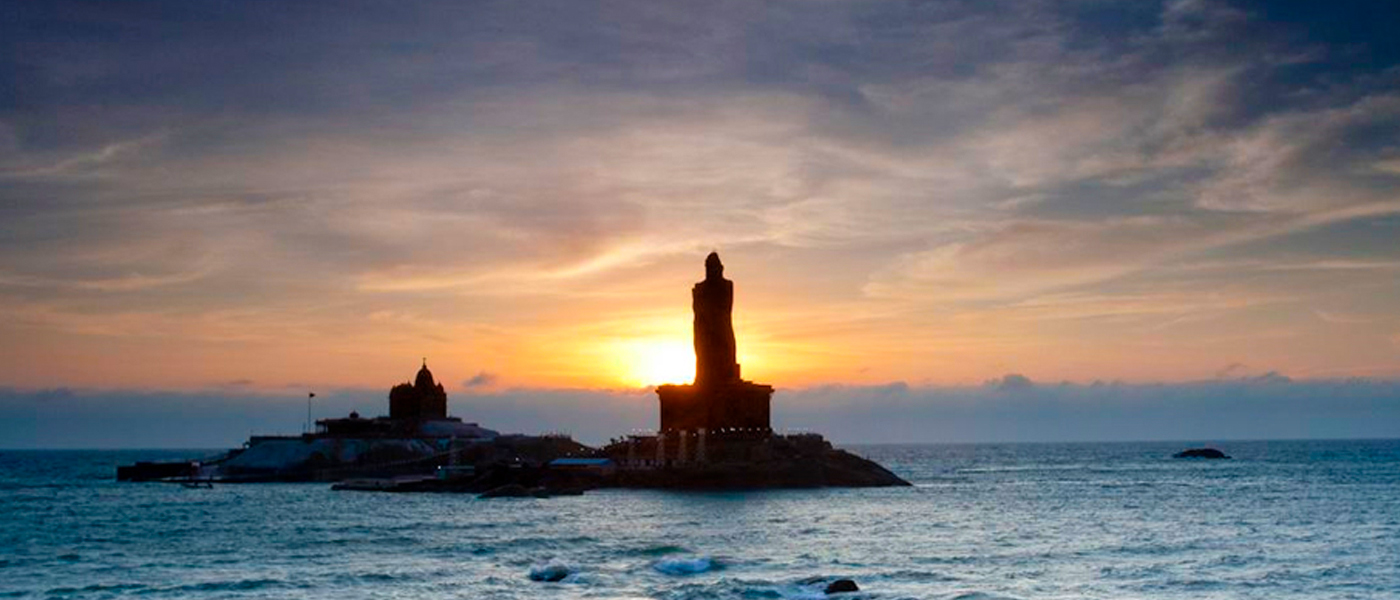 Kanyakumari
Plan your cheap Kanyakumari trip today with meetmytour and enjoy best Kanyakumari travel experience..
Things to enjoy in
Kanyakumari(Tamil Nadu)
Kanyakumari, formerly known as Cape Comorin, Located in Kanyakumari district in Tamil Nadu. The name of this place derives from the goddess Devi Kanya Kumari. Kanya Devi is now considered a virgin goddess who blesses pilgrims and tourists who flock the town. Her temple located in Kanyakumari is a Shakti Peetha or a holy shrine. The nearest city is Thiruvananthapuram (85 km) and the airport is Trivandrum International Airport, Trivandrum, Kerala.
---
Special offers
exclusively for you..!!
---
50 Reviews
---
S S
Shahil Shanu
Great people to deal with.. They are really professional. My experience was cool.
- Saturday, 14 November 2020 -
A R
Ashritha Ravali
Excellent arrangements from meetmytour..I really enjoyed my trip to goa. Meetmytour given all supports at right time to change our plan hotels and all. I always prefer this company for my future holidays.
- Monday, 16 November 2020 -
V K
Valsamma Karunan
Great experience. Enjoyed a lot during our family trip organized by meetmytour. Thanks a lot for all supports.
- Monday, 02 November 2020 -
A D
Anisha Daliya
Yes of course it was wonderful and amazing trip. Well organized & well planned. I can give 4+ or 5.. Whatever your service was amazing.
- Tuesday, 17 November 2020 -
P J
Patric Jawan
Brilliant tour and so well organised. So much more then i expected . I so highly recommend this as a shore excursion. Fantastic value. Guides were very good.
- Thursday, 12 November 2020 -
S S
Sonu Sharma
Extra ordinary service done by ruhi chandel. Really great coordination and great followp. Thank u.
- Tuesday, 17 November 2020 -
G G
Gayatri Gopinath
We were extremely pleased with our whole booking experience with meetmytour holidays. They provided best and good tour package options as compared to those from our local agents. Thank you meetmytour.
- Sunday, 15 November 2020 -
S K
San King
Happy with the smooth services and hassle-free travel experience from meetmytour travel agent. Keep up the good work guys.
- Sunday, 22 November 2020 -
A V
Arjun Viswanath
I thought it doesn't need the help of any travel agency when we planning a trip within india. But accidently i have joined with my friends when they have planned a trip with Meetmytour. But this was totally a different experience. Its totally a tight plan, just a 5 days trip in idukki. Only they can make such an amazing plan. In this days we have covered vagamon, ramakkalmedu, thekkady and munnar. We enjoyed a lot and strongly recommend to everyone..!!!.
- Thursday, 29 October 2020 -
S J
Sam Joseph
VIsited Ooty Kodaikanal with Meetmytour. It was a wonderful experience. The service was great in all aspects. We stayed two days in ooty and kodaikanal each. Especially the driver is so friendly and supportive, Overall we enjoyed a lot and hope to visit again.
- Thursday, 29 October 2020 -
S u
Sachin udayan
Booking with meetmytour was best decision because they helped me so much in booking of all the things as well as they had been in touch with me during trip. trip was very good and as per the trinary. All hotels and local drivers are nice.
- Thursday, 19 November 2020 -
K G
Kopal Gupta
Excellent booking experience with meetmytour. This is my 3ed trip with meetmytour and this was best among all. Great service teams. You guys are best for any trip.
- Wednesday, 18 November 2020 -
Z A
Zahra Ali
All travel arrangements and hotel stay was very nice and as per our initial plan. Driver was very co-operative(excellent and safe driving). Munnar local sightseeing and Alleppy houseboat stay was really a new and exciting experience.
- Tuesday, 17 November 2020 -
A A
Archana Ajith
We had an absolutely fantastic vacation in Mauritius. We could not have been treated better!! People were just super. I would like to take some time and write this review to express our memorable holiday experience that was possible because of your exclusive package from meetmytour. Plan was proper one.. thank you so much for giving such a beautiful travel experience.
- Saturday, 21 November 2020 -
A K
Amith Kumar
Trip was an exceptionally memorable one. We loved every bit of it. Mauritius was a wonderful host. The only concern for me was the location of the hotel. Overall it was a super experience. Thanks
- Friday, 06 November 2020 -
Kerala Fixed Departure - Special Rates