Kovalam- Kanyakumari - Poovar Student Tour (3 Days)
---
Kovalam- Kanyakumari - Poovar Student Tour
Kovalam- Kanyakumari - Poovar Student Tour (3Days/2Night) - Book Deluxe type Student tour package which covers Kovalam, Padmanabhaswamy Temple, Poovar, Thiruvananthapuram, Thiruvananthapuram Zoo, Kanyakumari(Tamil Nadu) from meetmytour holidays with great savings.. Kovalam- Kanyakumari - Poovar Student Tour offers Kovalam- Kanyakumari - Poovar Student Tour .
---
What's
include
Kovalam- Kanyakumari - Poovar Student Tour
Accomodation
All Meals
Entrance fees
Tax
Transfer and Siteseeing
Airport Pickup/Drop
Drivers Bata and Fuel Charge
Parking Fees
Toll
What's
excluded
Excluded from Kovalam- Kanyakumari - Poovar Student Tour
Additional sightseeing or extra usage of vehicle
Travel Insurance.
Vehicle
Used
TOURIST BUS 45/49 Seat Large Coach
Hotels
Used
DAY 1 TRIVANDRUM
After breakfast proceed to Trivandrum. Sightseeing includes Padmanabha swami Temple, Kuthira malika palace, Trivandrum museum and zoo, etc. Overnight stay at the Hotel.
Note : Sightseeing places covered will be depends on time.

DAY 2 KANYAKUMARI SIGHTSEEING
After breakfast, checkout from the hotel and proceed to kanyakumari. Visit Kanyakumari beach, Vivekananda Rock, etc. Overnight stay at the hotel
DAY 3 KANYAKUMARI - POOVAR - KOVALAM
After breakfast proceed to poovar. After poovar boating and sightseeing, proceed to kovalam. Then return back to your home location
INCLUSIONS
· Accommodation in Hotel/Dormitory
· All Meals
· Driver's Bata, fuel charges.
· Transportation as mentioned with an English/Hindi speaking friendly driver cum guide throughout your trip.
· Transfer 49 seater bus/traveller
NOTE
· Price based on base category rooms. Price with higher category rooms are available on request.
· We shall proceed with your booking once we have received the payment from you & if we are not able to get the original hotels, we shall provide equivalent/ alternative hotels.
TERMS & CONDITIONS
BOOKING
ü Minimum 50%of the payment should be remit at the time of confirmation.
ü Balancepayment should be made before 5 days of the tour.
EXTENSION OF STAY /DEVIATION FROM TOUR ITINERARY
An extension/deviation of stay at the end of the tour of travel arrangement is permitted subject to maximum validity and restrictions of the air ticket, seat confirmation, and availability of accommodation prior to the commencement of the tour. The extra cost incurred to process the extension will be borne by the customer. It is the customer's responsibility to hold a confirmed seat for the return flight. When extension/deviation requested cannot be confirmed 3 weeks prior to group departure, the customer is deemed to return on the original flight/tour schedule booked and no cancellation of tour is allowed.
Extensions/deviations of stay will be Customer's own expense and transfer to and from airport will not be provided.
For Tours on chartered flight, no extension/deviation will be permitted.
CANCELLATION& REFUND
Cancellation of booking of Tours or Tour Packages must be notified in writing with a minimum of 30 days' notice prior to departure or within the specified period allowed as stipulated in the specific Tour or Tour Packages. All cancellation must be confirmed by The Company in writing to be effective. Refund rates are based on the date we receive your written cancellation notice.
The total amount of refund will be based on the amount of the confirmed tour or tour package less 10% as cancellation fee. For individual component supplied by third party (ies), e.g. train services, air tickets, cruise, etc.; cancellation fee under terms and conditions of the third party (ies) shall apply.Cancellation fee of the third party (ies) will include refund administrative fee and any deposit committed to their suppliers to secure confirmation of the services requested. Should the cancellation be made less than 30 days,the following condition shall apply.
| | |
| --- | --- |
| Date of Cancellation | Refund |
| 15 – 29 working days prior to departure date | 50% refund of tour cost or 50 per person whichever is higher |
| 8 - 14 working days prior to departure date | 25% refund of tour cost or 50 per person whichever is higher |
| 7 or less than 7 working days prior to departure date | No refund |
The Company reserves the right to cancel a tour or booking made at any time before the departure for any reason whatsoever, including insufficient number of participants, our liability is limited to a refund of the money is paid.
The Company reserves the right to make adjustments to the itinerary wherever necessary, due to unforeseen circumstances beyond our control. Any necessary modifications to our itinerary will not deprive the tour participant of program features in any way.
Location Covers
In Kerala
---
---
---
---
---
Location Covers
Outside Kerala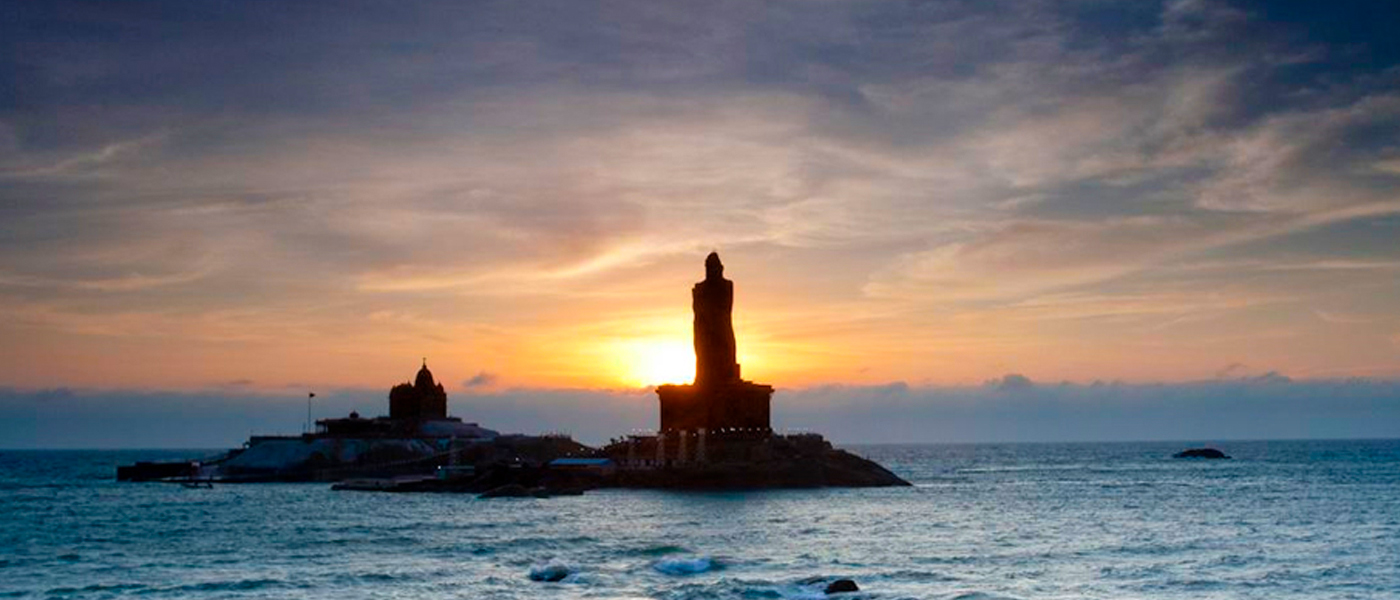 Kanyakumari
Plan your cheap Kanyakumari trip today with meetmytour and enjoy best Kanyakumari travel experience..
Things to enjoy in
Kanyakumari(Tamil Nadu)
Kanyakumari, formerly known as Cape Comorin, Located in Kanyakumari district in Tamil Nadu. The name of this place derives from the goddess Devi Kanya Kumari. Kanya Devi is now considered a virgin goddess who blesses pilgrims and tourists who flock the town. Her temple located in Kanyakumari is a Shakti Peetha or a holy shrine. The nearest city is Thiruvananthapuram (85 km) and the airport is Trivandrum International Airport, Trivandrum, Kerala.
---
Special offers
exclusively for you..!!
---
75 Reviews
---
K S
Kajal Shah
If somebody ask me about any travel agency where a trip for holiday can be booked, I will definitely recommend meetmytour because of the service. they planned our Mauritius family trip with top rated services and supports. Plan was nice and we really enjoyed.
- Sunday, 29 November 2020 -
L D
Laura D
Really enjoyed our Southern India trip with the most helpful team. Thanks meetmytout team for all your supports. In Kochi we stayed at the York Hotel, clean and comfortable and the staff could not have been more helpful. Overall we enjoyed a lot and hope to visit again.
- Sunday, 01 November 2020 -
A G
Ashley Grace
Holiday package to Kerala was an amazing experience with meetmytour holidays. Plans are good but quality of house boat was not satisfactory. But we like the plan and execution. Thanks a lot.
- Monday, 30 November 2020 -
V S
Vijay Samal
This was a very nice trip. The house boat ride was very pleasant, the views beautiful and the lunch very tasty in all places. We can recommend meetmytour for all kerala travellers. Service and communications was very nice
- Wednesday, 18 November 2020 -
C P
Chetan Panayala
A great journey, wonderful memories, and a well-organized trip made it a perfect honeymoon. Misty mountain Hotel in munnar was good and house boat in Alleppy was very substandard. Not clean enough not good facilities.
- Sunday, 22 November 2020 -
T B
Tamjid Banu
First of all, I would like to Thank meetmytour team and the driver Somaraj for the great experience we had. The hotels were very good and at serene locations, that was better because it was our honeymoon trip
- Sunday, 29 November 2020 -
K A
Kumayl Ali
It was a wonderful Honeymoon. Thanks to meetmytour especially Ms. Pratheesh for arranging this wonderful trip and Mr. Saminathan for excellent and safe driving and for his co-operation. Thanks to all again. Highly recommended to everyone who visits Kerala
- Sunday, 29 November 2020 -
A V
Arjun Viswanath
I thought it doesn't need the help of any travel agency when we planning a trip within india. But accidently i have joined with my friends when they have planned a trip with Meetmytour. But this was totally a different experience. Its totally a tight plan, just a 5 days trip in idukki. Only they can make such an amazing plan. In this days we have covered vagamon, ramakkalmedu, thekkady and munnar. We enjoyed a lot and strongly recommend to everyone..!!!.
- Friday, 06 November 2020 -
S K
San King
Happy with the smooth services and hassle-free travel experience from meetmytour travel agent. Keep up the good work guys.
- Monday, 30 November 2020 -
S S
Stanly Shaju
Best concept for travelers and for Hotels, Travel agencies, Cabs, Guides and Restaurants. Easy to list your services in meetmytour..
- Friday, 06 November 2020 -
G G
Gayatri Gopinath
We were extremely pleased with our whole booking experience with meetmytour holidays. They provided best and good tour package options as compared to those from our local agents. Thank you meetmytour.
- Monday, 23 November 2020 -
H K
Hafeez Khan
Excellent Hotels & Services. Good and better platform to plan all my future trips
- Monday, 30 November 2020 -
A A
Aishwarya Agarwal
Thank you so much Susan for all arrangements to plan such amazing family trip to kerala. Below are some Good and Bad points so far. We had a great trip to kerala. Our travel agent meetmytour was super in planning and organizing such an amazing kerala trip.
- Friday, 20 November 2020 -
T J
Tessy James
Its really a nice experience in Kerala with meetmytour. They have given the best plans for me. Each day was amazing, especially in houseboat. I really recommend Them. Thanks guys for that amazing Trip
- Saturday, 21 November 2020 -
S J
Sam Joseph
VIsited Ooty Kodaikanal with Meetmytour. It was a wonderful experience. The service was great in all aspects. We stayed two days in ooty and kodaikanal each. Especially the driver is so friendly and supportive, Overall we enjoyed a lot and hope to visit again.
- Friday, 06 November 2020 -
Kovalam- Kanyakumari - Poovar Student Tour - Special Rates